AFT President Randi Weingarten told Senate lawmakers on Feb. 23 that the Every Student Succeeds Act enacted by Congress in December "gives us the opportunity for the reset needed to move from a test-and-sanction environment to one of support and improvement " in public schools, but that "states will need time to get it done and get it right."
In testimony before the U.S. Senate Committee on Health, Education, Labor and Pensions, Weingarten thanked committee chair Lamar Alexander (R-Tenn.), ranking Democratic member Patty Murray (D-Wash.) and the entire panel for "tremendous work" that secured passage of ESSA—breaking through Washington gridlock and partisanship to end the "broken policies" of No Child Left Behind, NCLB waivers and Race to the Top.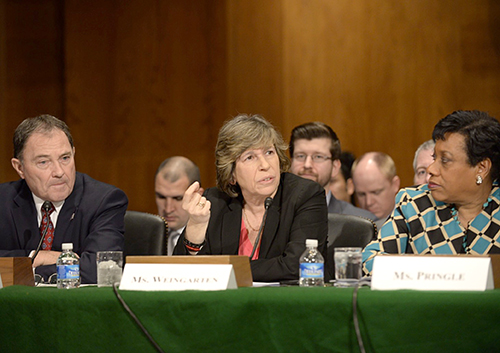 "You have made it possible for states to move away from high-stakes testing and punitive sanctions that have left students alternately stressed or bored, frustrated parents, and deprofessionalized and demoralized teachers," Weingarten testified. "You have made it possible for states to create new accountability systems that focus on the meaningful learning that will prepare children for the complex world they are entering. You have made it possible to support educators as they meet the needs of the whole child, and have maintained the original intent of the Elementary and Secondary Education Act to address significant poverty and its effects."
Above all, she said, the law offers an "opportunity to redefine student learning in the robust way that any parent or educator would value, and to offer interventions that will put struggling schools on the path to success. I challenge district, state and federal officials, and all of us, to empower and support teachers to stoke students' curiosity and help them pursue their dreams."
Now, the challenge is turning possibilities into classroom realities she said.
Laying the foundation
The union communicated with more than 172,000 members by telephone a few days after the bill was signed. It was clear that "they appreciate the reset, [and] they want to know what will be different," Weingarten told the committee. Frontline educators are "fighting for the public schools their students deserve, [and] they want to have the latitude, the conditions, the tools and the respect they need to perform their jobs."
For states, the first step to that goal is shelving "the current, flawed high-stakes testing regime" and using the months ahead to create "new, more effective systems for teaching and learning," Weingarten said. School districts and states need time to dive deeply into the process of building accountability systems that provide a framework for school and student success. States such as New York, Tennessee and Utah are moving in this direction, and others should follow their lead. The most important thing that states can do is focus on new accountability systems "that are aligned with what kids should know and be able to do, [and] that help teachers help kids get there," Weingarten said.
"A system that actually measures progress or enables that progress—that's what the reset was—to go from a top-down test-and-punish system to one that will actually unleash that kind of creativity" that promotes real teaching and learning.
Under the new law, states will have more than 18 months before full implementation to develop their timelines and strategies for ESSA. During that interim period, the AFT is calling on states to place a moratorium on the consequences of high-stakes testing, Weingarten testified.
"A reset means a reset," she stressed. "We have gone through many, many reforms—reforms where there is a rush to publish and a rush to create, and no attention is paid to the implementation. ... Members want to see the current system put on hold for a little while so we can actually have this new unleashing of creativity—these new [accountability] systems where they can actually engage kids."
Alexander also called for wise, effective use of the 18-month ESSA interim period. The time is provided to allow stakeholders to work together in a deep and meaningful way on effective strategies. When it comes to plans for accountability, states should feel "no need to ram them through," the committee chairman said.
Seizing the moment
ESSA has provided a "new era of flexibility," a time when "decision-making should be left to the states and the educators, parents and community members—the true stakeholders," the AFT president said. To build that climate, the U.S. Department of Education should stick to the letter of ESSA—a law that garnered broad bipartisan support—and "limit guidance and regulation to only those issues that need clarification to make the law functional in practice."
A flexible federal approach will build on ESSA strengths that began to surface shortly after enactment. Already, the new law has sparked an impressive climate of cooperation among stakeholders in many states, observed Weingarten, who stressed that the AFT is engaged with a coalition of states, school districts, educators and parents "united by our strong, shared commitment to making ESSA work" for students.
"Although all these stakeholders do not always agree, we are unified in our belief that ESSA is a historic opportunity," she said. "It has the potential to ensure every public school is a place where parents want to send their kids, where students are engaged, where educators want to teach, where the curriculum is rich, where there is joy in teaching and learning, and where, ultimately, all children are successful."
[Mike Rose, photo by Michael Campbell]